Living My Pledges on the Running out of Time Climate Relay!

My move it pledge was to adopt a travel hierarchy to apply to my run training and racing. This works whereby I have a series of priorities to apply when planning my running: 
Can I stay as local as possible, although most races involve some travel.

Can I fit it into other life commitments such as training whilst my daughter is at theatre rehearsals or to complete a race whilst on holiday.

Can I get public transport.

Can I travel with friends

If all of the above fails I can use our Electric car (recent addition from a hybrid and petrol before that)
The recent Running out of Time Climate Relay gave me a perfect opportunity to test the practicality of using public transport for a running event. It also enabled me to indulge my planning geekiness! Who doesn't love the planning associated with a run adventure: how and when will I get there, what kit do I need (most of my racing is on the trails or fells which tends to have kit requirements), what food am I going to eat before, during and after, how am I going to tackle the running part etc. Anyway, you get the idea. 
I live in a little village between Doncaster and Sheffield so had identified stage 67 as a practical stage to target. This started at Dronfield Station on the outskirts of Sheffield and ended at the Crooked Spire (look it up – a bit of a local landmark) in Chesterfield. This would mean two trains both ways with a bit of waiting in between.
A prompt finish to work (at home) and I was off on a straightforward first stage of my journey on a local train into Sheffield. Unfortunately, on arriving in Sheffield I had 45 minutes to kill. For those of you who know Sheffield Station you will now there is only one thing to do if you have some spare time and that is a trip to the Sheffield Tap. This is a cracking real ales pub in the station. In fact, it must be something about South Yorkshire train stations as Doncaster has an equally enjoyable pub on platform 3 called the Draughtsman. This has come to my rescue many times when connections have been missed.
Anyway, I digress. Unfortunately, on this occasion I could only look longingly at the many beers on offer, I really didn't think it would be advisable to sink a pint before the run. This time I made do with a soft drink and some chill out time reading my book. 
Time for my next train and a 15 minute journey to Dronfield. On arriving I had another 30 minutes wait time before my relay leg so it was more escapism in The Overstory (even had a climate themed book on the go – Sorry Damian "You can't run away from this" is next). To be honest it was quite nice to have some quiet time and I now felt ready for the most important part of the evening, the run. 
David, the lead runner, arrived and thankfully confirmed he knew the route as he drove it every day – Garmin navigation wouldn't be needed! A family, one of whom had worked at Cop26, turned up to cheer us off and then the three runners from the previous stage arrived proudly carrying the baton before them. Cue lots of photos and shaking of hands before we set off for Chesterfield.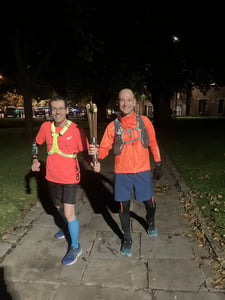 As mentioned, the vast majority of my training and racing is done on the trails and fells so my road shoes had been dug out of the cupboard and donned for the evening. With plenty of time allowed in the schedule we settled into a nice and easy chatty pace and proceeded to talk pretty much about running for all 6 miles. David was great company and rather impressive in the fact he had completed over 100 marathons, many of them done for charity. This included the London Marathon the previous day which he had run on behalf of Sands. My "long" trail run of 10 miles from the same day suddenly seemed very inadequate.
After just over 50 minutes of running and chatting we arrived into Chesterfield to be met by the chiming bells of the Crooked Spire. It seemed fitting to be met by such a grand sound on what is a very grand undertaking both in terms of distance (the whole relay not our leg) and intent. It felt fantastic to be part of something so positive that was trying to shine a light on the most important issue of our time. I only wish we could get more media actively involved in promoting the action that is needed (I did send the press release to five or six local media organisations and very disappointingly had nothing back). The media narrative is so important in our battle and finding ways to make breakthroughs in this area is essential. I have to say the Green Runners have been great since their launch in this field and it makes me proud to be part of the group.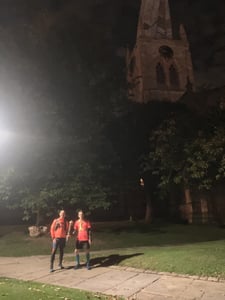 After handing over to the lovely lady (really sorry I am rubbish at remembering names) who was cycling with the baton on the next leg, I said my goodbyes and made the short run to the train station. A quick change of top in the station toilets meant I didn't get too cold as I returned to my book and more tales of trees and their impacts on a variety of characters within the book.
Having expected a longer wait time at Sheffield I was able to jump on an earlier train to a different local station, a couple of miles further from my house. Given the late hour and the fact I was starving by this time, I cheated and got my wife to pick me up in the EV. 
Reflections on the night was that I actually really enjoyed the travel and felt very relaxed throughout. It is definitely a possibility for some races and training sessions. Races would ideally need a bag drop so you could take a full change of clothes and would need a start time that made it possible to use public transport. For training, provided I can take a change of top in my race back pack, I should be able to make it work without turning myself into a shivering mess on the way home. I am already planning more public transport running adventures with some of the small Peak District train stations targets for some of my fell training next spring and summer. Well done to all who supported the Climate Relay and I look forward to seeing the Green Runners continue to grow.
(author: Robert Nicholas)