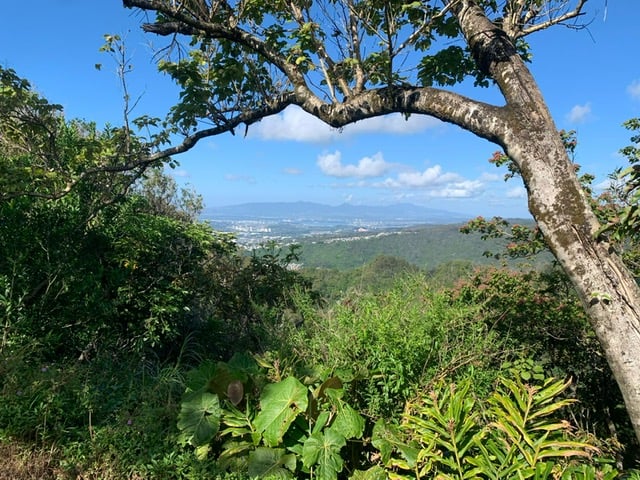 Imagine going half way around the world to DNF a race.. twice?! Sucker.
But HURT is more than a race, it's an Ohana, a family of like minded people – much like The Green Runners.
A piece of me was left on the trails in January 2022 after a DNF that I wasn't convinced was fully justified despite medical advice to the contrary. I got that piece of me back this year with a run I'm deeply proud of. Being at HURT this year brought me so much happiness.
Hurt 100 – Round 2
Those 60 miles last weekend were amazing and some of the best of my life (whilst it lasted!).
Racing in 1st and 2nd place felt like joyful running. And the community, the 'HURT Ohana' made it so so special.
On loop 1, myself and 3 others went out fairly hard and there wasn't much talking, but we were having good fun working our way up Mt Tantalus.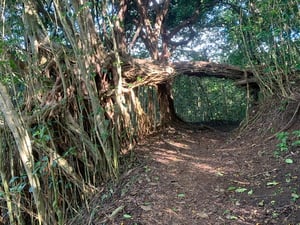 By the first aid station, the incredible 'Pirates of Paradise' at mile 7, I had assumed a small lead due to some fun downhill running (thanks to chasing a Ferret called Damian Hall around Welsh mountains), which I held onto until mile 35 (loop 2). Then I was overtaken whilst using natures toilet. Second place would be where I would stay until dropping out.
At mile 45 (loop 3) I was running a long technical downhill section when I felt a 'twinge', well.. more like a bolt of lightning, going through the left side of my body. Over the next 15 miles my back deteriorated and it became crippling. Standing up was painful enough and another 40 miles felt a total physical impossibility…
And so that was that, how underwhelming..
But I was okay with it – everything in my control I aced; pacing, fuelling, cooling, mentality etc. But a slipped disc is a slipped disc.
With ultramarathons becoming increasingly popular, there is absolutely no guarantee I will get into the race again next year. And it could be several years until I get lucky in the lottery. So despite not getting the outcome I wanted, I've accepted the 60 miles I ran. And being part of such a special event is more than enough for me this time around.
I'm content with that.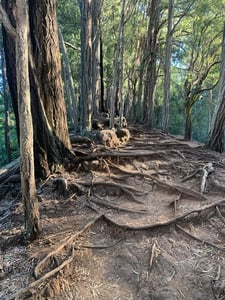 Looking to the Future
Would I try my luck on Tantalus again? Yes! My name will be in the lottery come August.
The weekend taught me that I am capable of a sub 24 hour finish, maybe around the 22 mark. The first 2 loops took about 8 hours with the first loop being in the top 10 fastest ever according to Strava!
3 loops (60 miles) was done in 13 hours and change. 12.5 hours was scheduled prior to the back going at mile 45.
Another year of training will only help the fitness. But mainly I would go for the HURT Ohana that has been so formative in my running, either as a volunteer or a runner.
This is one of the few races in the world where volunteers outnumber runners almost 4 to 1. Community is important here and thus it's important to give back if unsuccessful in the lottery.
One day I will bring it all together for a finish, but good things don't come easy. Tantalus is unforgiving and demands all of you all the time, especially when racing hard. If not the mountain will chew you up and spit you out and there is nothing else in the world like it.
The Carbon Footprint Problem
The carbon footprint of traveling so far for a race weighs on my mind. But some things run more deeply and are more important than potentially being labeled a hypocrite.
HURT is that (to me anyway).
Especially when the industry and governments aren't doing their part. It has highlighted to me the importance of asking aviation manufacturers (Airbus, Boeing etc) and airlines what they are doing to make aviation carbon neutral and a viable long term option for our globalized society. Because at the moment it's not.
Astonishingly little research is being conducted into alternative fuels for the aviation industry and no new technology has been implemented into the sector, just offsetting emissions. At this current rate of progress in a surprisingly short amount of time (my lifetime) flights will no longer be viable in their current form. The technology is not that far away, there is just a complete lack of political or industry will. Currently this will only change when it's way too late.
The HURT Ohana is important to me and it's values align with The Green Runners. So it only makes sense that I should constructively speak out so that aviation makes the changes needed to become viable and sustainable in the long term.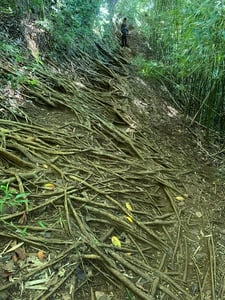 If enough of us do the same maybe international travel can be saved for future generations. And communities like HURT can continue to thrive as they do today.
Because that's what we deserve.
"Putting yourself in a situation where you might not get the result you want takes unbelievable courage. This is when we learn the most about ourselves – when we push ourselves to the limit of our current capabilities. Yes, sometimes we don't get the outcome we wanted, yes it feels like shit, but this gives us the full experience of being alive – doing hard shit and putting ourselves in harm's way on purpose – because doing these things shapes us and makes us more of who we are. THIS is what life is about." – From Allie Bailey's blog.
Last but not least, a very special 'Maholo' to the volunteers, HURT Ohana and board of directors who make this special event happen xx