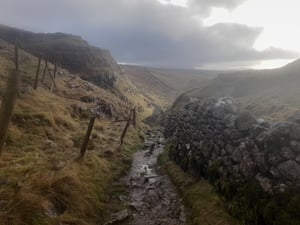 There are worse ways to spend a weekend. The Spine Challenger South is an 108 mile (my GPX clocked it at 111 so I got my money's worth…) 20,000 ft of elevation section of the Pennine Way, from Edale to Hawes, run in one go, with one official aid station just before halfway at Hebden Hey. The Challenger is the 'fun run' of the full Spine; with the tagline of being one of 'Britain's most brutal' races. No less challenging in terms of underfoot conditions and the need to carry all the same mandatory kit, but under half the distance. It appealed to me having done the Spine Sprint the year before, which takes you to the first aid station. I had loved the whole experience and the route was incredibly special. As the first National Trail the Pennine Way represents the very essence of something that should be available to everyone, the ability to experience that much raw nature in full force not a privilege reserved for those who owned land, but for us all.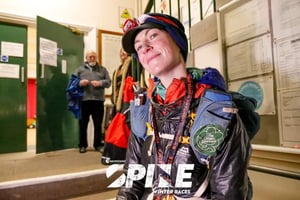 I had pinned my Green Runners badge to my massive rucksack before I set off, it was important to me to have a sense of what my values are when I was doing the race. I got public transport there, three trains with my stuffed to the gills bags, where I had kept thinking 'but what if…' and then throwing another battery pack or bag of crisps into it. And then I was there, Edale, and subject to a full kit check, good to know I had everything. Photo to go on the tracker and then all I could do was wait.
On Saturday the 14th January, 7.30 in the morning in conditions that could favourably described as 'sopping' and 'hideous', we set off from Edale. The wind was gusting, heavy rain fell for pretty much the first 24 hours and the streams and cloughs we crossed were high. I have never been more grateful for decent waterproof socks and less grateful for the fact that so many moors we crossed were not managed to prevent erosion, leading to huge peat hags and gullies that were barren of life and also a total pain in the wotsit to get over and through. This special landscape is in places managed for nature well, such as by the Yorkshire peat partnership, and it was noticeable where animals and birds were and where they just were not. Aside from the possibly million sheep I saw a hare and various birds of prey alongside the smaller songbirds being gusted away at a rate of knots over the plateaus.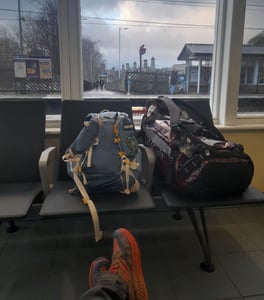 One of the best things about the Challenger was the brilliant people I met, from those who I met at the start and various stops, through to the fabulous people I ran with. We chatted about all the usual things, such as snacks, toenails and chafing, but also what the Green Runners badge meant, with people sharing stories about how they were making a difference to the environment via running, whether it was pledging to travel less, picking up litter or making sure that what they ate had wrappers that could be recycled. Following 16 hours of darkness following my headtorch lamp and an impromptu stop in the ruined farm at Top Withins, where the plaque informs you it was definitely not the setting for Wuthering Heights, the sun came out on Sunday morning. This was a much calmer day to cover some of the highest tops en route, including Pen Y Ghent and Fountains Fell. After 37 hours and 40 minutes I got to Hawes as second lady, beyond my wildest expectations of timings. Got some plans as to what might come next, so watch this space!
(Author: Alice Kershaw)
@alicekershaw on Twitter
@alice.kershaw on Instagram