Martin Elcoate has been a super supportive and active member since he signed up on Day 2 of The Green Runners being live! Thank you Martin for all your actions and for sharing this great summary of your first year with us all. Looking forward to sharing the next one with you.
24th April 2022 - Sign Up Day!
Sign-up day! An obvious step for me to take. The idea of making a pledge is a great idea and immediately differentiates this initiative from the social media #LowCarbonBirding movement I'm part of.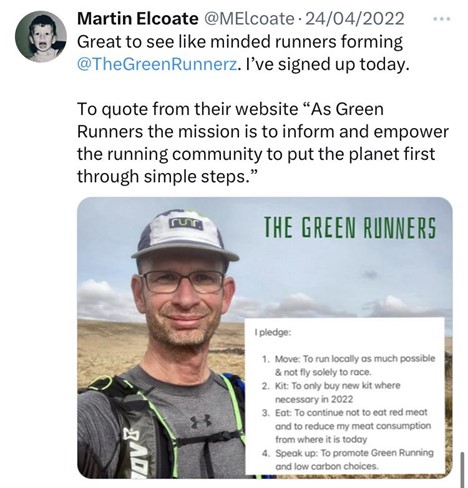 In keep with #LowCarbonBirding, How We Speak Up is probably the most important action we can take. And The Green Runners have positively encouraged me to speak up more often.
I use social media as a platform but am all too aware that this is a bubble. So, following Green Runner nudges, I've written to my MP a few times, written to and spoken to race directors, left product reviews, written to brands, wrote to Jen & Sim Benson to suggest a Green Runner takeover for their section of the Trail Running magazine (and contributed a route to the resulting article) and discussed Green Running with runners (often prompted by my badge).
I wrote an article for the Green Runners blog (Train-ing) and have submitted an article about The Green Runners to the Low Carbon Birding website, at their request (awaiting publication).
Writing about what it means to be a Green Runner keeps me honest.
As a result I've used the car a lot less frequently to get out to run #HowWeMove.
I'm an advocate for taking the train, recognising I'm lucky to live within walking distance of a station. Trains give me an incentive to get out and find new long run routes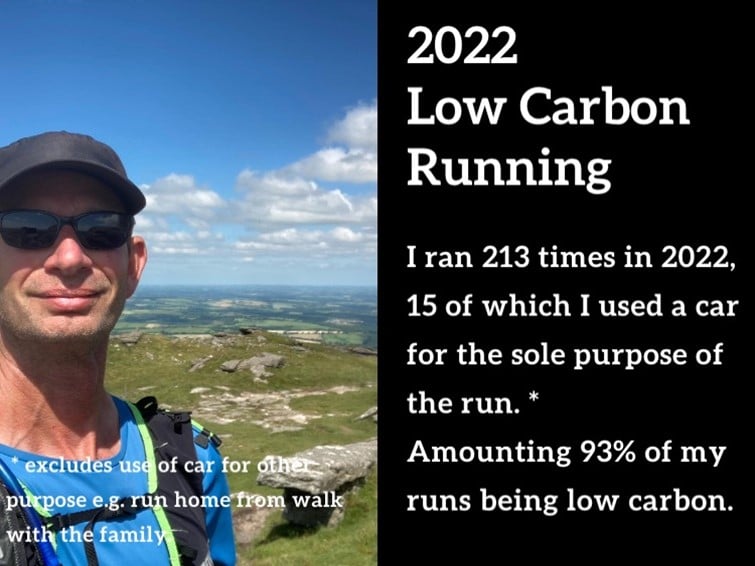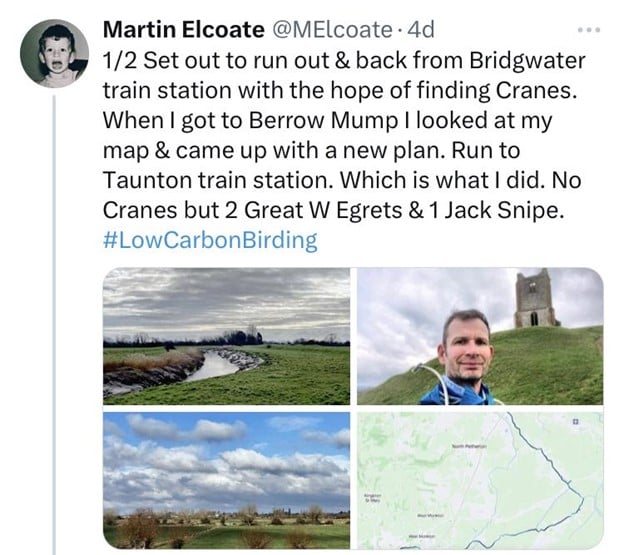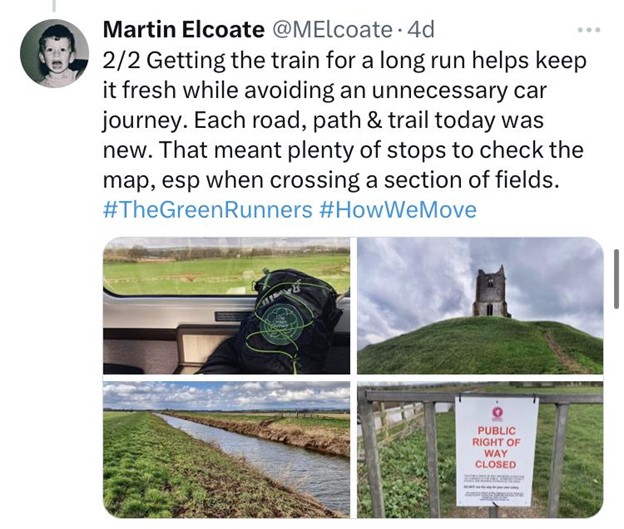 Since joining I've bought two pairs of running shoes. Two too many?
One pair was probably an extravaganza but I managed to convince myself I needed a specific type of shoe for a trail 100 miler. The road shoes needed replacing due to the cushioning giving out.
On the positive side I've bought fewer pairs of shoes, turning to cotton and thread for the first time, using heel repair kits and just putting more Kms into each pair of shoes.
The Green Runners have helped me find the resources needed to keep my shoes going for longer.
Oh, and I've contacted Strava several times to get them to move their default new shoe reminder distance up (nudge tactics work) – speaking up again.
I'm probably at the point of needing to replace a few pairs of holey socks but that aside my shorts and shirts will last years.
The other bit of kit that concerns me is my running waterproof jacket. No matter what I do, using various cleaning / waterproofing products, the life of my jackets isn't as long as I'd like.
Off the back of a Green Runner campaign in 2022, I've switched energy provider to a greener alternative (I took my time though – silly really as the process is really easy). I need to do something about my banking next.
The Twelve Days of Christmas
I loved this Green Runner initiative, inspiring me to take action day after day.
OK I failed on the plant based food day due to eating up leftovers but that aside I had 11 days of trying to make a difference in ways I may not have otherwise tried
The Green Runners have encouraged me to take action in ways I wouldn't have otherwise thought of.
Never before have I decided to go for a run on a recovery day with the sole purpose of raising a finger to Shell.
Let's hope our collective displeasure at European Athletics makes them think twice next time they are selecting sponsors
I knew I wasn't going to be able to make it to London on 21 / 22 April to join The Green Runners at The Big One in Parliament Square.
With that in mind I signed up for updates from XR Exeter and found myself walking down Exeter High Street, placard aloft.
Did I take my Green Runners badge? Of course I did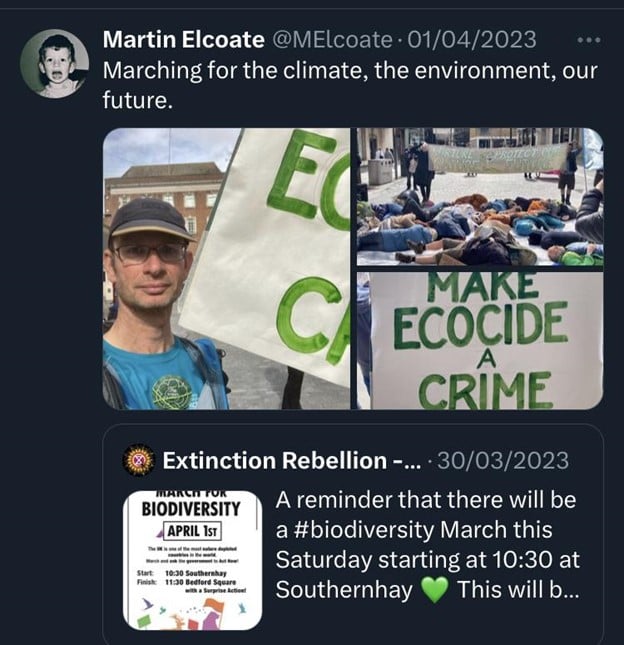 All those Twitter posts and Instagram stories must have caught someone's eye as I was delighted to be asked if I would like to join David Starley representing The Green Runners at the Cornwall Running Show.
A quick check of train times, a short family discussion and it was game on.
I had a great day chatting all things green running with a steady flow of friendly runners intrigued to know more about our four pillars.
Apologies to those people who got a bit too close to my repaired trail shoes. I really should have freshened them up first before showing you my needlework!
Every person who joins The Green Runners makes a difference by adding to our collective voice, so thank you to those who are reading this as a result of the show
And My Running Highlights of The Year?
Easy. My first point to point 100 mile run (in 2021 I ran 100 miles in 5 mile loops). Battered and very happy.
And spending the weekend running in the company of Damien, Adharanand Finn and a great bunch of runners across Dartmoor.
And of course I spent a lot of time talking Green Running, low carbon birding and pointing out just how trashed Dartmoor is sadly from a wildlife perspective and missing a major source of carbon uptake (our lost Atlantic rainforests).
My thanks to all of the co-founders and those who have joined The Green Runners for building a community that strives to make a difference.

Let's do it all again. And more. What's up next Green Runners?!