Getting Started with Canicross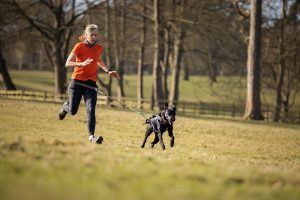 Running with your dog can be a lot of fun, as well as a great time saver, but it's not just a case of putting your trainers on, grabbing the dog's lead, and heading out on your usual run. To canicross with your dog, you need to ensure you have the correct kit, and take into account training your dog to run in harness.
Running with your dog attached to you isn't cheating (we've learned that may people do shout this out as you run past); there is a lot of effort and training that needs to go into it, even if your dog is used to going running with you off lead.
Read on for tips on how to get started:
Age

:  Before you can start running with your dog in harness, ensure your dog is fully grown, This can vary according to breed, so check with your vet first, but generally most dogs are fully grown at 12-18 months old.  It takes a lot of effort to run in a harness pulling us along and we don't want to see any injuries!
Invest in proper equipment:

 

Canicross harnesses for dogs are designed to be light weight and to not restrict the running movement of your dog, especially their shoulders and their spine.  There are lots of choices depending on size and whether your dog is a puller or not.  

A harness for you – sometimes known as a wait belt.  You see a lot of cheap waist belts about which literally go round your waist.  If you have a strong pulling dog this is going to cause you injury to your back.  The human canicross harness sits on your pelvis, and has straps which your legs go through. Your pelvis is the strongest part of your body, so can take the pull as you run with your dog without causing injury.

The bungee line attaches you and your dog together, and is designed to absorb any shock from the pull of your dog.

Check out the Canicross and Bikejor kit for sale Facebook group for good quality second hand kit (link:

https://www.facebook.com/groups/822924167720043

) or the K9 Trail time for new kit (link to

https://www.k9trailtime.com/

) 
Your kit:

Trail shoes are essential for canicross, especially as the canicross season runs from September to Easter when the weather is cooler.

You may not own a pair of trail shoes if you've never donw any off road running, so check out this podcast episode on finding the right trail shoe for you

but remember the best trail shoe is the one you already own!
Invest in a session with a canicross coach:

Dogs are unpredictable, so spending time teaching them commands to slow them down, turn right or left or just keep going is really important, remember you are attached you need to be in control. A canicross coach will also usually have kit you can try before you buy.
Find a canicross instructor or club near you – https://www.google.com/maps/d/viewer?mid=1Nl7TcgStwe5_gsKfORhpzUbkjUg&hl=en&ll=53.33439286225978%2C-3.47592806337889&z=6
Running routes:

Choose safe and appropriate routes for your runs. Canicross runs should be mainly off road and on trails to lessen impact on your dog's joints.
Start as if you are both beginners:

Even if both you and your dog are regular runners, running canicross style is very different and it is advisable to start with short runs (20-30 minutes) and gradually build up your distance and speed. It's important to start slowly to allow your dog to get used to running in a harness and pulling you along.  
The canicross season:

The Canicross season in the UK runs from September to Easter time, in the coolest time of the year.  Remember your dog has a fur coat on all the time, and can only sweat through its paws and its tongue!  As it gets warmer, try to get out earlier in the morning, and run near water. Yes, you can run throughout the year but it's important to know your dog and how they deal with the heat.  In this Canicross Conversations podcast, Dr Anne Clark and Emily Hall talk about how to spot the signs of heat stroke in dogs.  You can listen

here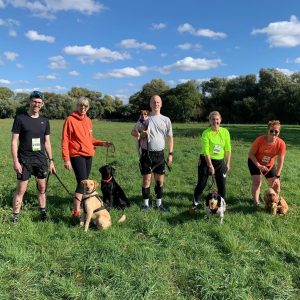 Canicross is a great way to bond and get fit with your dog. T sport is growing, and more races are allowing dogs to join in too, but do ensure you have the right kit and control over your dog. 
Once you give it a go, you won't look back – it's addictive. 
Louise Humphrey, Canicross Instructor at Paws4running & Canicross Conversation Podcast co-host 
Michelle Mortimer, Canicross Instructor at Miles with Michelle & Canicross Conversation Podcast co-host