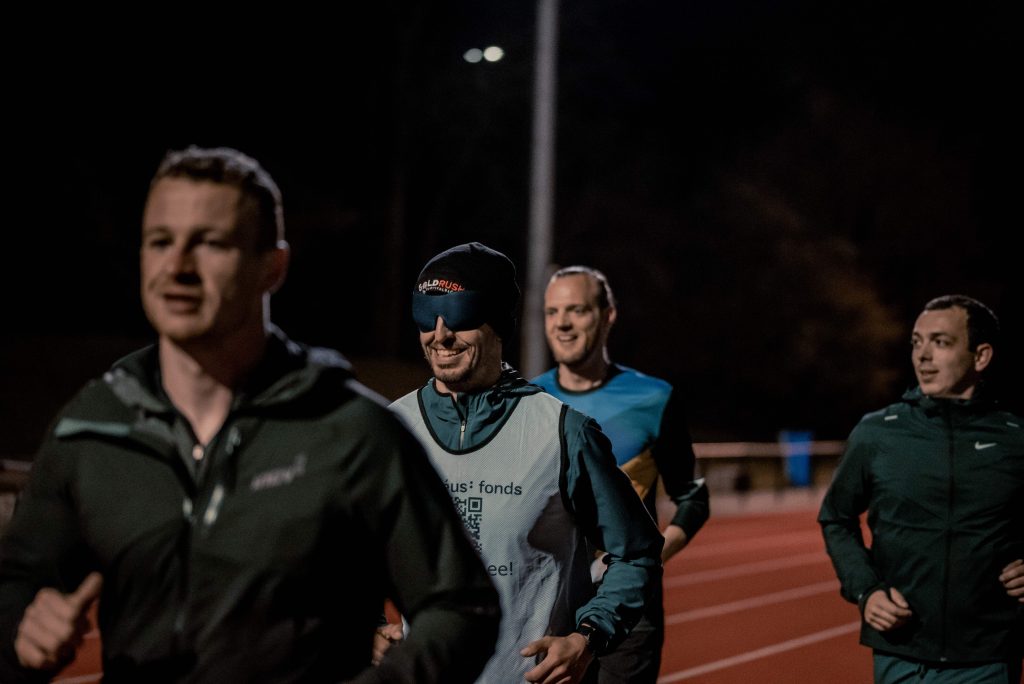 Celebrating Successes Among the Green Runners Community
This is a guest blog from one of our community members, Björn.
This article is a bit different from our usual information-packed blogs. Because we want to celebrate the amazing success stories amongst the Green Runners. Björn's story is hugely inspirational for us all
In this article, Björn talks us through an incredibly difficult world record, both physically and mentally.
And, importantly, he tells us about the lessons he learnt which can be applied to other areas, inclduing how we talk about our impact on the climate.
This is a really inspirational and emotional story. We hope you're inspired by it to go and make a difference in the world as a result of reading it!
If you feel like you have a great story to tell us, please reach out and let us know.
Enjoy
Guinness World Record Take-over 'Longest Distance ran in 24 hours, blindfolded'
Yep, you read that right, 'a take-over'  and not just an attempt!
Being very motivated and very convinced that I would succeed, I attempted to break the record which was 80.47 dark kilometers (or 50 dark miles!).
A specific song I really like has the lyrics 'If at first you don't succeed, then try at least two more times, so your failure is a statistically significant try'. A piece of wisdom that goes for a Record Attempt and for our cause as Greenrunners. But more on that second part below.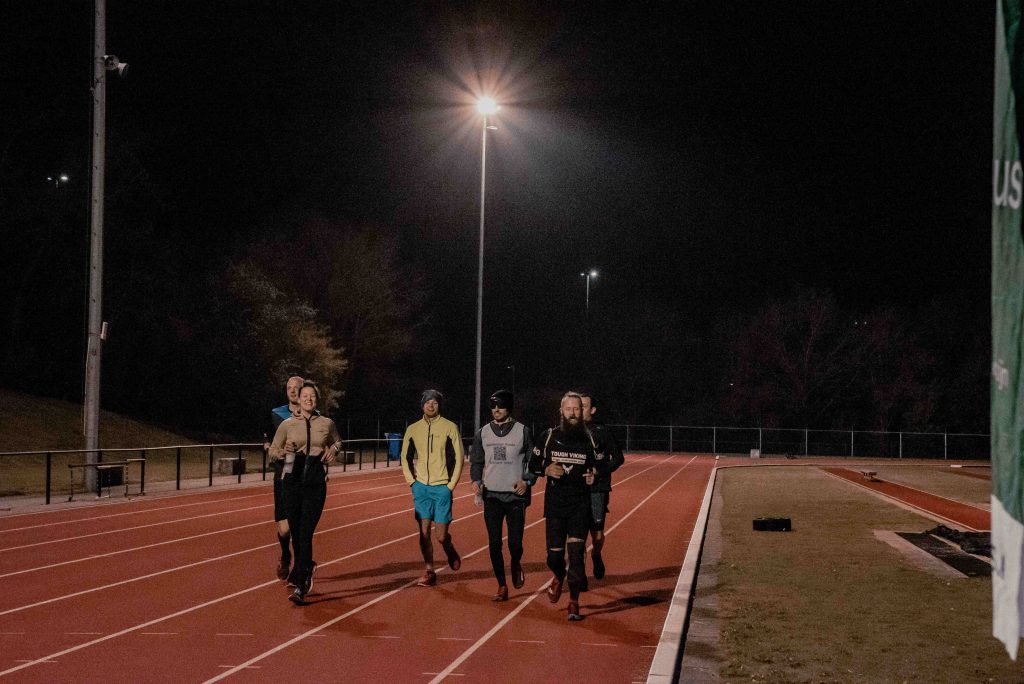 Running for My Blind Daughter
First, the record.
I live in the Netherlands with my wife, daughter of 6 years old and son of 2 years old.
Our little girl was born with Amaurosis Congenital Leber disease, which means her sensory cells in the retina don't work. She's 100% blind from birth and this will probably stay for the rest of her life.
As sad as it sounds, we have an optimistic outlook on what her life's path can still have in store for her.
As a famous Dutch blind comedian told my dad "But Gramps, no worries, in 18 years from now all cars are selfsteering, so your granddaughter will still be visiting you by herself!"
And as we often said when she puked all over herself as a toddler… "Well, at least she can't see her clothes are dirty!"
Humor is what makes the world move in the right direction.
Optimism helps to come up with new fun remarks to surf through the day, a day always stuffed with obstacles for a young girl with no eye-sight.
As for me, I was always chosen last for the teams on the gymclasses in high school. My gymnastics teacher went as far as to say 'You'll never amount to any athletic achievement, you just don't have that gene.'
I skipped gymnastics classes as much as possible.
Fast forward 20 years and I've finished over 130 runs of which 88 are marathons or Ultras. A large portion of these were obstacle runs, but an equally large portion being adventure races or trail runs.
What running gave to me in confidence and a stronger and better version of me, I wish for everybody.
So, I realized, several years ago, that I should really use my talents for the greater good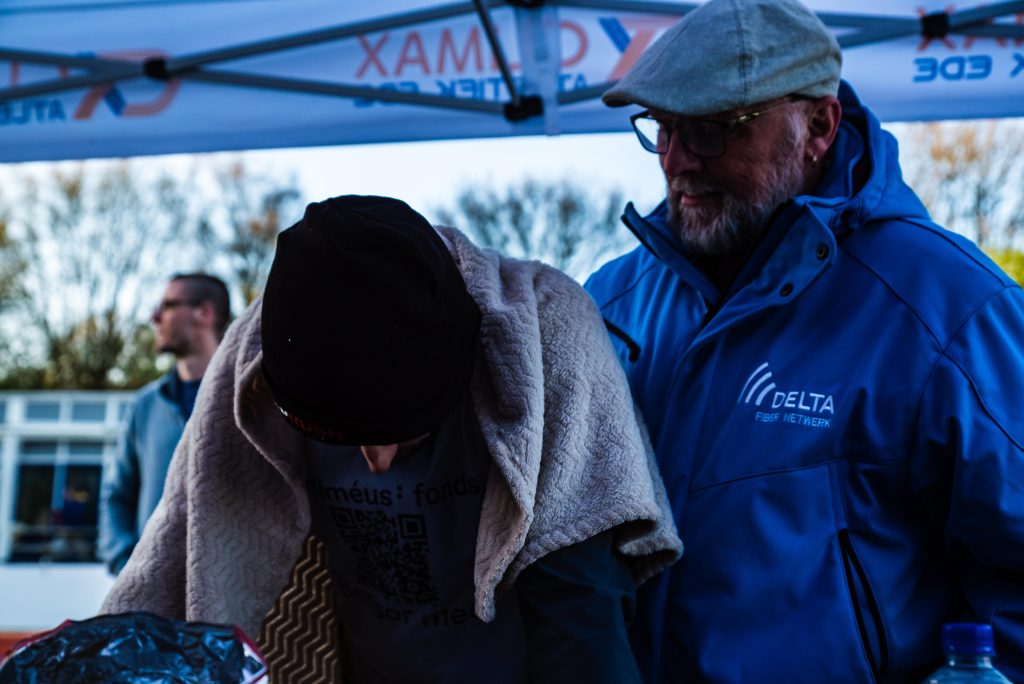 Back to the record
That greater good came in many forms, but one more recently being 'running for the Bartimeus Foundation', a Dutch charity which raises money for schooling, app development, awareness programs and training concerning visual impaired people.
There are many great charities to support, but this is of course part of my story. The money I would be raising with my Guinness Record run would be put into a diagnostics centre that can diagnose babies and toddler.
Yes, it's a really sad thing learning your child is blind, like my better half and I learned when our little one was 3 months old, but it's the truth coming to light and with that a new starting point from which you can start building a new future.
I wanted that for other parents in the same situation, taking away that uncertainty and helping them get a new perspective on what to expect in the near future.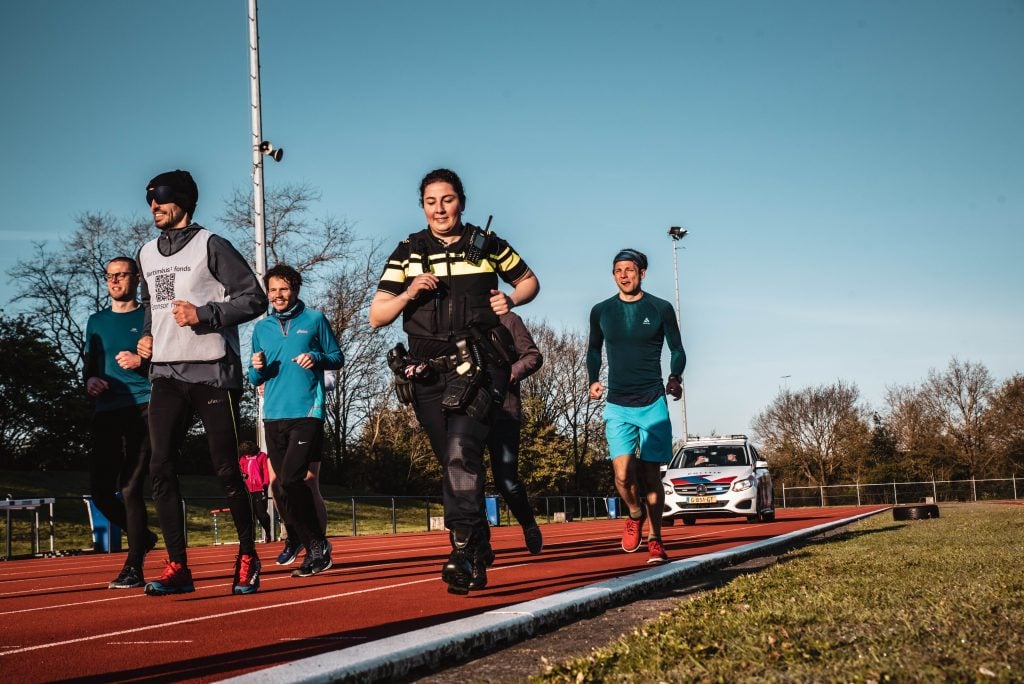 Running Like A Blind Hamster... And A Visit from the Police
In short, the Guinness Record Event was heartwarming to say the least.
Over 90 people decided it would be a good investment of their time and energy, supporting and guiding a guy running on an athletics track for 24 hours, like some blind hamster.
Rules imposed by Guinness stated I was not to be touched, so I was guided by two to five buddy runners at all times, guiding me by a bell from my Christmas decoration (I will never celebrate Christmas again!) from the buddy in front of me. And a buddy trailing after me saying 'slight left, slightly left, more left. RIGHT!''.
Police officers came to check on us, wanting see what kind of over enthusiastic kiddos decided to run a track in the middle of the night. The officers actually ran with me, a thing I never saw, but did hear. I couldn't hear whether they also carried donuts!
Being Inspired To Carry On
At around midnight, a guy who is a father to a three year old turning blind came to run with me and share his story as well.
He couldn't get himself to tell family and friends that his kid was going blind, but he was here, sharing it with me.
I was having a pretty hard time at that point but this reminded me what I fought for.
At this point, I have raised quite a lot of money and will continue to do so, as I will be running the Marathon des Sables next year.
That will be the second part of my fundraising with the goal of 100.000 euros.
I don't intend on going for small goals
Delivering A Message in The Right Way
Drawing a parallel to the The Green Runners, since I saw quite some discussion on how to promote our message without getting people frustrated or even aggressive.
I believe it comes down to be the example and show why you do what you do!
I insisted on having blindfolds present during my event, for people to come and experience for themselves what it's like. If you haven't done a blindrun, grab a buddy, close your eyes and have her/him guide you. It can be lifechanging, I am not exaggerating.
Inspire people, by bringing people together to do the experience together.
Inspire people to come tell their stories.
Inspire people to have fun while doing so.
But also inspire people to hold each other accountable. We're in this boat called 'Mother Earth' together.