Follow Jasmin Paris at UTMB 2022 - Daily Updates
For five days, from Monday the 22nd August, we are following co-founder and fellow Green Runner Jasmin Paris as she journeys to and takes on UTMB 2022. Living up to her Pledges for a fitter planet.
What an inspiring human being! (On so many levels). Let's all be more like Jasmin and live up to our pledges by putting them into action. Follow the links to the daily posts on social media to share, engage, show your support & be part of the journey. We are all in this together.
Jasmin is running for herself, for the planet and for The Green Runners. Let's give her our fullest support.
DAY 2 – Tuesday 23rd August
The Journey to UTMB Begins
(Pillar: How We Move)
5.30am Jasmin begins the grand depart for @UTMB and a 17 hour public transport journey that goes like this…
EV Car to Edinburgh station – Train to London – across London – Train to Paris – Train to Bellegarde-sur-Valserine – and finally a 2 hour bus to Chamonix.
Why do this rather than a quick 2.5 hour flight over to Geneva?
Jasmin pledged to only fly to one race this year, and that was her awesome 'Fun Run' feat at the @Barkley marathons in the States. So here she is putting her #HowYouMove pledge into action for The Green Runners.
On the up side she gets to relax on the train, catch-up on the juicy work projects that she doesn't normally have time for plus she can get up stretch and move around more – better pre-race prep.
When she arrives in Chamonix late on Tuesday evening she's planning on getting somewhere high up for some sleep and mountain immersion before the race on Friday.
Of course she will have to do it all again in reverse on the way home. We suspect getting up and stretching will be even more important then! Especially as she is straight back to her veterinary duties in the clinic on Tuesday.
#HowYouMove #actionbasedpledge
DAY 3 – Wednesday 24th August 
Pillar: How We Eat
From vegan picnics to sustainable wrapping Jasmin has put a lot of time into thinking about her pledge for our #HowYouEat pillar for @UTMB this year.
Without knowing exactly what your body might need or what's on offer at the aid stations Jasmin's will pre-prepare plenty of vegan picnic food for the trip but she will eat what she needs at aid stations during the race, as long as it's vegetarian.
A favourite is hummus and beetroot wraps (full of good nitrates to boost the body's efficiency). And wrapped in wax paper or a reusable bag.
She'll also have some Supernatural Fuel pouches (products shipped with a prepaid envelope you can send back the pouches for recycling) and some Outdoor Provision bars and nut butters (that have biodegradable packaging) on board.
#actionbasedpledge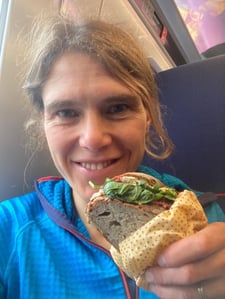 DAY 4 – Thursday 25th August 
Pillar: How We Kit Up
Sadly, these old favourites won't make it to Jasmin's kit for @UTMB. After 2750+ happy miles they finally gave in at the top of a col midway through a trek. Thanks to a fellow runner with some tape she managed to get home!
The rest of her kit is the most sustainable she has – namely the kit she's already got. Tried, tested and trusted.
Over the years Jasmin has learned she doesn't need multiple shoes for different terrains. She simply keeps one pair of race shoes for fell and one pair for trail until they get downgraded to everyday use and worn into the ground like these.
She prefers not to trial new gear from brands and sticks to what she knows will work for her and last well to help her action her #HowYouKitUp pledge for the Green Runners.

How long has your kit lasted?
Share your pics and long-lasting kit stories with the community on social media. Be sure to tag The Green Runners and/or use hashtag #thegreenrunners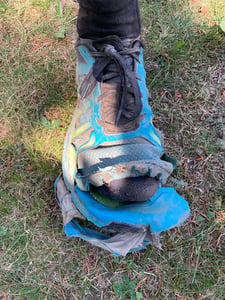 DAY 5 – Friday 26th August 
RACE DAY! 
Pillar: How We Speak Out
The most important of all Jasmin's pledges for The Green Runners is #HowToSpeakOut
She is running @UTMB for no brand or sponsor.
She is running for The Green Runners. She will be wearing her Green Runners badge with pride. Not just as an emblem of membership and community but as a mark of action. Her mission is to inspire others to take action too. Making a more sustainable choice is not always the easiest choice, but we can all do something. Small steps, regularly, from lots of us will add up.
So if you are out in Chamonix and see Jasmin please ask her about The Green Runners, she'll be more than happy to talk to you (maybe just not half way up a climb!). And to join our community and make your own #actionbasedpledge at https://thegreenrunners.com/join-us/

Good luck Jasmin, enjoy the beautiful nature, the whole Green Runners community is cheering for you!